APC BY SCHNEIDER ELECTRIC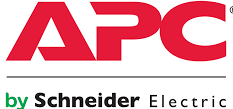 APC, by Schneider Electric, offers innovative solutions for protection against data loss, power problems, downtime and hardware damage. The APC product catalogue includes uninterruptible power supplies, surge protectors, power filters, power conditioners, power supply cords, enclosure air conditioners, axial fans, cabinets and rack enclosures. Use high-performance audio / video surge protectors from APC for protection against damaging power transients. These RoHS-compliant APC surge protectors have a SurgeArrest fail safe feature, a building wiring fault indicator, and are available in voltage ratings up to 120 V.
The company also offers a wide range of tower-, floor-, rack- and wall-mounted uninterruptible power supplies for use with computer systems, servers, networking systems and in data centres to provide power backup. They feature automatic self-test, audible alarms and serial connectivity. Choose from a wide range of these Energy Star-rated APC UPS batteries, available in different NEMA plug & receptacle configurations and cord lengths, on Raptor Supplies, one of the authorised APC distributors.